In the era of our digital lives, instant messaging apps have become a constant part of our lives, enabling real-time communication and interaction with friends, family, and colleagues. These applications provide an extensive array of functionalities that go beyond mere text messaging, encompassing features such as voice and video calls, the sharing of multimedia content, and the ability to engage in group conversations.
Among the array of a wide variety of instant messaging applications, Telegram stands out. Telegram is a versatile and feature-rich instant messaging app, notable for its strong focus on privacy, security, and innovation. With a user-friendly interface and a range of functionalities, it has garnered a significant global user base. Similar to Telegram, a multitude of messaging applications exists standing in line as Telegram's best alternatives. These alternatives offer a diverse array of features and functionalities, promising unique messaging experiences to their users. Whether you're seeking heightened privacy and security, innovative communication tools, or simply a change of scenery in the digital messaging landscape, these alternatives provide a compelling selection.
In this article, we will delve into the uniqueness of Telegram as a messaging application, and alternatives of Telegram, shedding light on their standout features, security measures, and overall appeal.
What makes Telegram the best Alternative?
Telegram is in an era within itself with its user-friendly features and easy-to-use accessibility. This application provides a distinctive combination of features, security, and innovation. Privacy is a paramount concern in today's digital age, and Telegram's unwavering commitment to safeguarding user data through end-to-end encryption and self-destructing messages provides users with a heightened sense of security and confidentiality. Moreover, Telegram consistently pioneers new features and functionalities, such as voice and video calls, setting itself apart as a trailblazer in the messaging app landscape.
Its ability to function across multiple platforms guarantees effortless communication across a range of devices, and its capability to host sizable group discussions and support extensive file-sharing meets the requirements of both personal and business communications. The innovative Bot API gives developers the tools they need to craft tailor-made chatbots and automated solutions, elevating the overall user experience. Telegram's distinctive Channels feature streamlines one-way communication to large audiences, making it an excellent choice for broadcasting news or sharing content updates.
Furthermore, Telegram provides an ad-free environment to its users that preserves the integrity of user interactions and highly distinguishes it from other instant messaging apps. It fosters transparency and community-driven development, With a global user base spanning multiple languages, Telegram provides a diverse and vibrant environment for worldwide communication.
Let's discuss some of Telegram's best features that make it a preferred choice by users,
Privacy and Security
Telegram is a privacy-centric app and is renowned for its commitment to user security. It offers end-to-end encryption for chats and self-destructing messages. It also provides the option to delete messages from the sender and receiver, on both ends. This robust security ensures users of their data remains confidential.
Innovation
Telegram is known for its innovation in the digital platform. The application serves consistent improvement and has a history of introducing new features. It was one of the first messaging apps to introduce voice and video calls it continues to evolve with new functionalities and enhancements.
Large Group Chats
Telegram supports large group chats with thousands of participants, making it suitable for both personal and professional use. It is a popular choice for communities, businesses, and organizations. It accommodates a large number of group chats with its distinct features allowing easy communication.
File Sharing
Using telegram, users can easily share a wide range of file types on the application. Telegram users have the flexibility to share a wide variety of file formats, including documents, images, videos, and various others. These files are stored in the cloud, ensuring easy accessibility from any device for added convenience.
Stickers and Emojis
Telegram provides an abundant collection of stickers and emojis, elevating the emotive dimension of conversations.
Ad-Free Experience
Telegram provides an ad-free experience to its users, ensuring an uninterrupted journey guaranteeing a seamless user experience devoid of intrusive advertisements.
Global User Base
Telegram has established itself as a go-to choice for people seeking secure and versatile communication. The global user base of Telegram is a vast and diverse community that spans across continents and cultures, making it one of the most internationally renowned messaging platforms. Telegram's user base is a dynamic and active ecosystem where users from all walks of life come together to exchange messages.
Top 16 Telegram Alternatives
1. Signal
Signal is a highly acclaimed messaging app that stands out for its unwavering commitment to privacy and security. Designed for those who prioritize confidentiality in their digital communications, Signal employs end-to-end encryption for all messages, ensuring that only the intended recipient can decipher the content. This stringent privacy measure has garnered Signal a reputation as one of the most secure messaging platforms available.
Signal also introduced features like disappearing messages, ensuring that sensitive conversations are automatically deleted after a set time. Its commitment to data minimization means that Signal collects minimal user information, enhancing privacy. In an era where digital security is paramount, Signal stands as a beacon of trustworthiness and user-centricity, offering a secure and private messaging platform.
2. WhatsApp
WhatsApp is a globally renowned instant messaging application that is celebrated for its simplicity, widespread adoption, and an array of powerful features. WhatsApp allows users to send text messages, voice messages, and video calls with its versatile features of end-to-end encryption ensuring that all conversations remain private and secure. WhatsApp has the extensive feature of group chats, and multimedia sharing capabilities, enabling users to send photos, videos, documents, and even share their live location. Despite this, there are many WhatsApp business solution providers exist in the market, offering a wide range of features for WhatsApp marketing that the official WhatsApp platform does not provide.. These services include the ability to send bulk messages, schedule messages, provide multi-user access, and offer various other functionalities.
With cross-platform compatibility across iOS, Android, and web browsers, WhatsApp ensures seamless communication across various devices. These features collectively contribute to WhatsApp's status as one of the most popular and user-friendly messaging apps worldwide, catering to the diverse communication needs of its vast user base.
3. Viber
Viber is a versatile and user-friendly instant messaging application that offers a comprehensive range of communication features for individuals and groups. Additionally, it supports group chats, enabling users to engage in lively discussions with friends, family, or colleagues. Viber goes beyond basic messaging with features like Viber Out, which allows for low-cost international calls to non-Viber users, and Viber Communities, where users can join and interact with communities of shared interests. Its cross-platform compatibility ensures seamless communication across various devices, including smartphones and desktop computers.
Some extensive limitations to Viber include limited file sharing size, no secret chats, ads and promotions, and limited privacy features.
4. Threema
Threema is a secure and privacy-focused instant messaging application that places a strong emphasis on protecting user data and maintaining confidentiality. At its core, Threema offers a platform for private text messaging, voice calls, and multimedia sharing, making it a versatile tool for personal and professional communication.
Threema also provides users with a unique level of privacy by not requiring phone numbers or email addresses for registration. Instead, it assigns users a unique Threema ID, offering a higher level of anonymity. Additionally, the app allows for the verification of contacts through QR codes, further enhancing security.
Threema offers limited features with a closed ecosystem, limited user base, and cost. Threema is not a free app and user needs to buy it before using it.
5. Tox
Tox is an open-source and privacy-focused messaging application designed to offer secure and decentralized communication. What sets Tox apart is its commitment to decentralization, which means there is no central server or authority controlling user data or communication. Instead, Tox employs a peer-to-peer (P2P) architecture, where messages are directly exchanged between users, enhancing privacy. Additionally, Tox supports group chats, file sharing, and voice messages, making it a versatile messaging platform.
It is particularly popular among individuals and communities seeking an open-source and secure alternative to traditional messaging apps. Tox's commitment to user privacy and its innovative P2P architecture make it a noteworthy choice for those who prioritize secure and decentralized communication.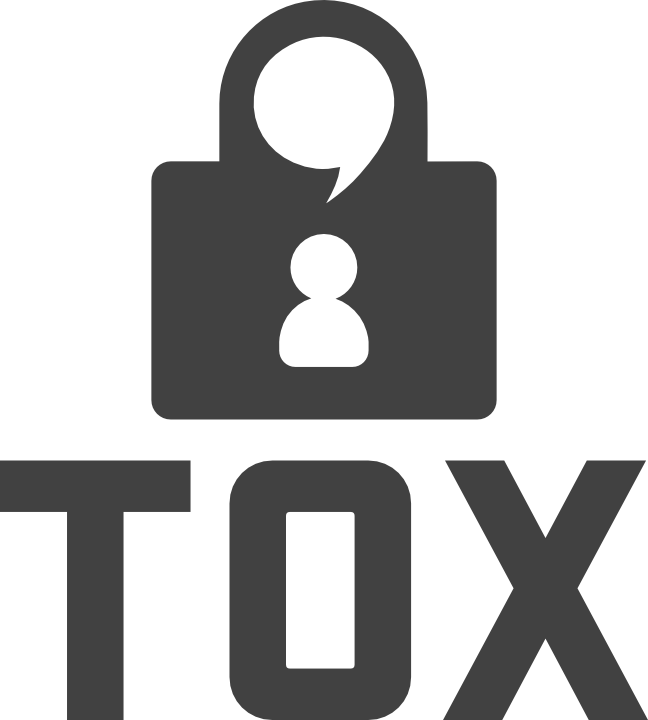 6. Skype
Skype has been a popular choice for video conferencing and long-distance communication for many years, There are also other messaging and video conferencing platforms available, and the choice of which to use often depends on individual preferences and needs.
Skype is available on a variety of platforms, including smartphones, tablets, and desktop computers, making it accessible to a wide range of users. It offers features such as screen sharing, file sharing, and the ability to make international calls to both Skype users and traditional phone numbers for a fee.
Skype allows users to communicate with others through video calls, audio calls, and text-based chats, making it a versatile tool for personal and professional communication.
7. Google Hangouts
Google Hangouts is a communication platform developed by Google that offers a range of messaging and video conferencing features. At its core, Hangouts provides a platform for text-based messaging, voice calls, and video calls, making it a comprehensive tool for both personal and professional communication needs.
The platform also supports voice calls, enabling users to have audio conversations with friends, family, or colleagues. For a more immersive experience, Hangouts allows for high-quality video calls, making face-to-face communication possible regardless of geographical distance. One of Hangouts' strengths is its integration with other Google services. It's seamlessly linked to Gmail, allowing users to initiate video calls directly from their email accounts. This integration extends to Google Calendar, making it easy to schedule and join video meetings or appointments.
8. LINE
LINE is a popular messaging application that offers a diverse range of communication and social networking features. LINE sets the line apart with its extensive collection of stickers and emojis making conversations fun and more expressive.
The app is available on various platforms, including iOS, Android, Windows, and macOS, ensuring that users can stay connected across multiple devices. LINE's popularity extends beyond Japan, with a global user base, making it a versatile and feature-rich choice for those seeking a comprehensive messaging and social networking experience.
9. Snapchat
Snapchat is a dynamic multimedia messaging application that has revolutionized the way people communicate and share moments with friends and followers. Developed by Snap Inc., Snapchat is known for its unique features that allow users to send self-destructing photos and videos, add creative filters and effects, and share real-time stories.
Snapchat has brought a revolution to basic boring chats and have turned them into more expressive and pictorial presentation. One of Snapchat's standout features is Stories, where users can create a chronological collection of Snaps that can be viewed by their friends for 24 hours. Stories provide a way to share daily highlights and updates, making it a popular feature for sharing experiences with a broader audience.
10. Mattermost
Mattermost is a collaborative messaging platform that operates on an open-source model, offering teams a secure and privacy-conscious environment for working together. With Mattermost, you can maintain complete control over your data, incorporate your preferred software tools, streamline workflows, and even customize its appearance to align with your specific requirements.
Mattermost limits the audience by providing a mobile experience, lack of enterprise features, complexity, and integration challenges.
11. Kontalk
Kontalk is a free, open-source chat application available for Android, web, and desktop. With Kontalk, you have the option to store all your data securely on your server, giving you exclusive control over your conversations with friends, family, or colleagues. Moreover, Kontalk adheres to robust internet standards, ensuring compatibility with other communication services.
What sets Kontalk apart is its commitment to user data privacy. The app allows users to host their servers, ensuring complete control over their chat data. This means that you are the sole custodian of your conversations, enhancing privacy and security. Kontalk also adheres to robust internet standards, ensuring interoperability with other messaging services and platforms.
12. Slack
Slack is a widely used and feature-rich team collaboration platform designed to streamline communication and improve productivity in workplaces, remote teams, and organizations of all sizes. At its core, Slack provides a centralized hub for team members to send and receive messages, making it an ideal tool for real-time communication.
Slack's user-friendly interface, customizable themes, and extensive emoji library enable users to create a workspace that aligns with their preferences and fosters a sense of belonging. Additionally, Slack prioritizes security, offering features like encryption, two-factor authentication, and compliance options to ensure data privacy and protection.
13. KaKao Talk
KakaoTalk, often referred to as "Kakao," is a popular South Korean messaging app with a wide range of features designed to facilitate communication and social interaction.
Beyond messaging, KakaoTalk extends its capabilities to include a wide array of features. Users can engage in group chats, making it ideal for social circles, family communication, and team collaboration. The integration of voice filters and effects adds a playful touch to voice messages, enhancing the fun factor in conversations. KakaoTalk's reach expands into e-commerce and mobile payments through Kakao Pay, where users can shop for various products and services, make secure mobile payments, and even transfer money seamlessly.
14. Flock
Flock transcends being just a communication tool; in addition to text, voice, and video messaging, it encompasses a plethora of productivity-oriented functionalities like task lists, surveys, notepads, alerts, and file exchange. Furthermore, users can rest assured about security and privacy since it adheres to SOC 2 Compliance standards, ensuring that all data traffic between Flock users and servers is safeguarded through encryption.
15. Microsoft Teams
With its security and compliance features, including data encryption, multi-factor authentication, and compliance with industry standards, Microsoft Teams prioritizes data protection and privacy. It caters to a wide range of industries, from healthcare to finance, thanks to its adherence to strict regulatory requirements.
In essence, Microsoft Teams has become the go-to platform for modern workplace collaboration, offering a seamless and secure environment for communication, file sharing, and productivity enhancement, making it an essential tool for businesses and teams of all sizes.
17. ICQ New
The new ICQ app represents a revitalized and modernized take on a classic instant messaging platform. With its availability on both desktop and mobile devices, ICQ offers users a versatile and efficient means of communication. Beyond traditional text messaging, it provides seamless voice and video calling capabilities, enhancing the ways individuals and teams connect.
One of the standout features of the new ICQ app is its ability to create chat groups of significant scale, accommodating up to 25,000 members. This makes it a valuable tool for businesses, communities, and organizations looking to foster collaboration and communication on a large scale. Additionally, the app allows for group calls with up to 30 participants, making it ideal for virtual meetings and discussion.
Conclusion
In conclusion, there are a number of respectable Telegram substitutes that provide comparable features and functionality. While many users may choose Telegram, it is always a good idea to look into other possibilities in order to locate the platform that best meets your needs. Consider Signal, WhatsApp, Viber, and Discord as possible substitutes. Users may stay connected and share information safely with the help of these alternatives, each of which offers secure messaging and communication options. In the end, the decision of which option to select will depend on personal preferences and particular needs.